Ajnishahe Shala-Halimi awarded with Citizens Award for Courage in 2010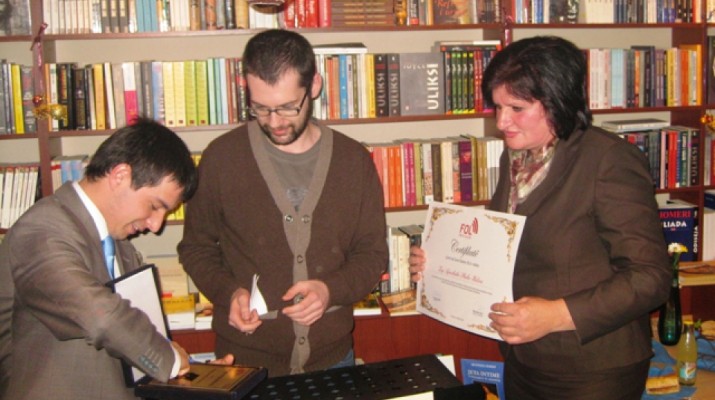 At the annual party, FOL Movement for the second time awarded the Citizens Award for Courage. In the first time this award was awarded to Mr. Rufki Suma in 2009, an independent candidate who won the election for mayor of Hani Elezit whereas in 2010 the Citizens Award for Courage was presented to Mrs. Ajnishahe Shala – Halimi.
Mrs. Halimi is a civil society activist, dedicated in protecting the rights of women and children, with a special focus on improving the position of women in society. She was a coordinator of the Center for Protection of Women and Children in Skenderaj and in 2004, she founded and currently leads the Women's Center "Prehja" in Skenderaj.
FOL Movement by presenting the Citizens Award for Courage recognizes and supports the valuable and courageous contribution of the individuals in cultivation and development of democracy and political culture in Republic of Kosovo. Activities such as Ms. Shala – Halimi has organized proved courage to challenge important processes and issues in the community where she lives.
Hajrullah Ceku, the Chairman of the Advisory Board of FOL Movement when presenting the award stated that "It is an honor for me to present the award for the second time and what makes special this year award is that the award is presented to a woman. Mrs. Shala – Halimi proved success in her initiative and we should appreciate her courage".
When accepting the award, Ms. Shala – Halimi stated "I am very happy to accept this award and I feel also responsible. I am only one of many women who are trying for the best of this country, therefore I feel so privileged that I have been chosen to receive this award".
After presenting the award there was a cocktail for participants which at the same time was the closing activity of FOL Movement in 2010.